Rays Officially Acquire C Mike Zunino From Mariners In Five Player Deal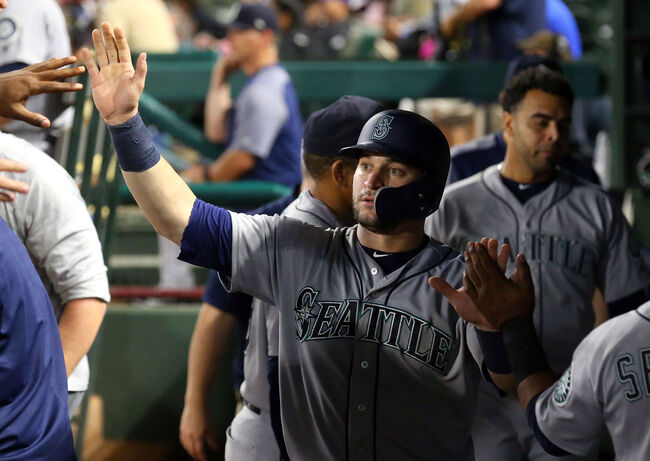 (via Tampa Bay Rays Communications) - The Tampa Bay Rays have acquired catcher Mike Zunino, outfielder Guillermo Heredia and minor league left-handed pitcher Michael Plassmeyer from the Seattle Mariners in exchange for outfielder Mallex Smith and minor league outfielder Jake Fraley.
Zunino (zoo-NEE-no), 27, hit .201/.259/.410 (75-for-373) with 20 home runs and 44 RBI in 113 games (102 starts) last season with the Mariners, his second consecutive season with at least 20 homers and third overall. He missed time due to a pair of stints on the disabled list, missing the first 17 games of the season with a strained left oblique and from July 5-21 with a left ankle bone bruise. Over the last two seasons, his 45 home runs rank fourth among major league catchers behind Salvador Pérez (54), Gary Sánchez (51) and Yasmani Grandal (46). According to FanGraphs, since the start of the 2017 season he ranks sixth among major league catchers with 5.1 Wins Above Replacement (WAR). Over parts of six seasons in the majors, he has hit .207/.276/.406 (391-for-1,885) with 95 home runs and 241 RBI.
Last night, Zunino was named the 2018 Wilson Defensive Player of the Year at catcher. The Wilson Defensive Player of the Year, which honors the top defensive player at each position across the majors, is determined by a combination of traditional defensive stats and advanced metrics. With Zunino and Kevin Kiermaier, who won the award for center field, the Rays are now the only team in baseball with two 2018 Wilson Defensive Players of the Year. According to FanGraphs, last season Zunino tied for first among American League catchers and tied for second among major league catchers with 12 Defensive Runs Saved. Among qualifying catchers, he ranked fifth in the majors and third in the AL with a .998 fielding pct. He threw out 29.2 pct. of potential base stealers, third in the AL among players to appear in at least 100 games at catcher.
Zunino was born in Cape Coral Fla., where he graduated from Mariner High School in 2009. He was selected by the Mariners in the first round (third overall) of the 2012 June Draft out of the University of Florida, and remains the highest-drafted player in school history. He led the Gators to the College World Series each of his three seasons there, was named 2011 Southeastern Conference Player of the Year and in 2012 earned the Golden Spikes Award, Dick Howser Trophy and Johnny Bench Award.
Heredia (her-ED-ee-uh), 27, hit .236/.318/.342 (69-for-292) with five home runs and 19 RBI in 125 games (88 starts) last season with the Mariners. He was with the major league club for three stints: Opening Day–April 21, May 1–August 18 and August 27 through the end of the season. He was one of five qualifying outfielders in the majors to record a 1.000 fielding pct., and joined Franklin Gutierrez in 2010 as the only Mariners outfielders to ever do that. He was named the Mariners recipient of the 2018 Heart and Hustle Award by the Major League Baseball Players Alumni Association (MLBPAA). The Heart and Hustle Award honors active players who demonstrate a passion for the game of baseball and best embody its values, spirit and traditions. Over parts of three seasons in the majors, he has hit .244/.321/.336 (188-for-770). He played six seasons in Cuba before signing with the Mariners in March 2016.
Plassmeyer, 22, went 0-1 with a 2.25 ERA (24-IP, 6-ER) in 13 appearances (12 starts) last season with Short-A Everett, his first professional season. He recorded 44 strikeouts, good for a 16.50 strikeouts per nine innings ratio, and was named to the Northwest League midseason All-Star Team. He was selected by the Mariners in the fourth round of the 2018 June Draft out of the University of Missouri. In his final season at Missouri, he went 5-4 with a 3.05 ERA (91.1-IP, 31-ER) and 103 strikeouts in 14 starts.
Smith, 25, hit .296/.367/.406 (142-for-480) with 27 doubles, 10 triples, two home runs, 40 RBI and 40 stolen bases in 141 games (127 starts) for the Rays last year, his second season in the organization. He won the club's Paul C. Smith Champion Award, given to the player who best exemplifies the spirit of true professionalism on and off the field, and was selected as the Rays nominee for the Roberto Clemente Award. He ranked third in the majors in stolen bases, and it was the most by a Ray since Carl Crawford (47) and Melvin Upton Jr. (42) in 2010. His 10 triples tied for the AL lead and his .296 avg. ranked 11th in the league. Over parts of three seasons in the majors, he has hit .277/.346/.384 (256-for-925) with 72 stolen bases. He was originally acquired by the Rays from the Mariners in a four-player trade involving Drew Smyly in January 2017.
Fraley, 23, hit .347/.415/.547 (78-for-225) with four home runs and 41 RBI in 66 games for Class-A Charlotte last season. He missed two months of the season with a left foot injury. Over parts of three seasons in the minors, he has hit .278/.359/
.435 (150-for-540) with seven home runs and 73 RBI. Following the 2017 season, he was ranked by Baseball America as the Best Defensive Outfielder in the organization. He was selected by the Rays in the Competitive Balance Round B of the 2016 June Draft out of Louisiana State University.
Photo Courtesy of Getty Images