Bruce Arians Admits Buccaneers "Won That One In Spite Of Me"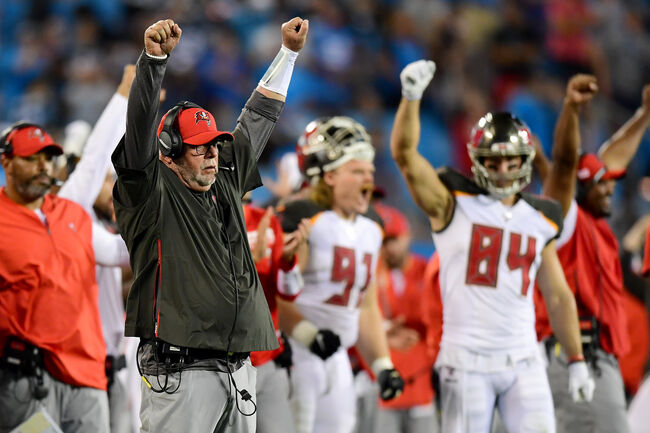 The Bucs had a big win both on the road and on a short week against the Carolina Panthers on Thursday. Thanks in part to a great defensive performance led by Shaq Barrett and a gigantic fourth down stop by Vernon Hargreaves III to save the game, the Bucs held Carolina to only field goals (and a safety) in their 20-14 win.
That victory for Tampa Bay was also the first win for Bruce Arians as the Bucs' head coach. After the game, Arians spoke with the media to discuss their win. Here is a full transcript from Arians' press conference.
Opening Statement
"They won that one in spite of me. Obviously the double timeout was stupid and it was a situation where I had called timeout, Todd didn't realize it, coach called timeout, we always do that. It almost cost us the game but it didn't, our defense stood oup and made a hell of a play. Really proud of how our defense played all night, I thought we handled McCaffrey extremely well, Olson on the other hand gave us a little problem, but I'd rather have him give us a problem than McCaffrey. I thought Todd had a great plan coming in and our guys played for 60 minutes, it wasn't perfect but we played extremely hard for 60 minutes. I thought obviously our run game is building strides, last week I thought was good, I thought tonight was really good against a hell of a front. To come in here and win is a hard thing to do so we're really really pleased." Photo Courtesy Of Getty Images