Rays Make Deal For Jesus Aguilar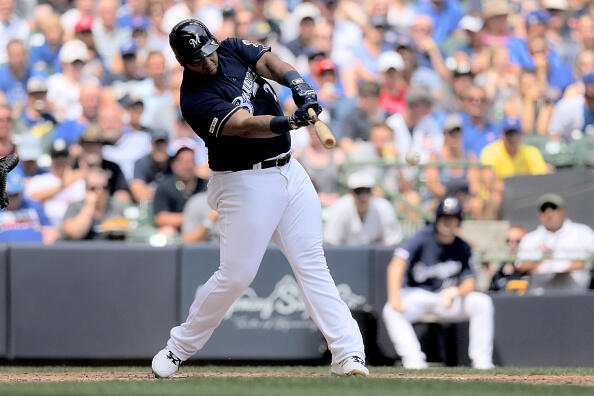 Jesus Aguilar hits a single in the fifth inning against the Chicago Cubs at Miller Park (Photo by Dylan Buell/Getty Images)
The Tampa Bay Rays have been reportedly looking to add a right-handed power-hitter, and they may have just landed one.
Jeff Passan of ESPN is reporting that the Rays have acxquired first baseman Jesus Aguilar from the Milwaukee Brewers.
Passan is reporting that right-hander Jake Faria will be sent to Milwaukee in the deal.
The release from the team confirming the deal is below:
ST. PETERSBURG, Fla. (Tampa Bay Rays Communications) — The Tampa Bay Rays have acquired first baseman Jesús Aguilar from the Milwaukee Brewers in exchange for right-handed pitcher Jake Faria.
Aguilar, 29, has spent the last three seasons with the Brewers, batting .261/.339/.492 (259-for-993) with 49 doubles, 59 home runs and 194 RBI over that span. He is batting .225/.320/.374 (50-for-222) with eight home runs and 34 RBI in 94 games (52 starts) this season, but .311/.347/.600 (14-for-45) with three home runs and eight RBI in his last 18 games (nine starts) since July 5. Last season, Aguilar made the National League All-Star Team and finished 16th in overall balloting for the NL Most Valuable Player Award, batting .274/.352/.539 (135-for-492) with 35 home runs and 108 RBI in 149 games (123 starts). He ranked among NL leaders in homers (tied for fifth), RBI (tied for fourth), slugging pct. (fifth) and on-base plus slugging pct. (.890, ninth). He started all 10 of Milwaukee's postseason games at first base and homered twice in the postseason.
Aguilar was signed by the Cleveland Indians in November 2007 and spent nine seasons in the Indians organization, including parts of three seasons in the majors. He was claimed off waivers by the Brewers in February 2017. Over parts of six seasons in the majors, he has appeared at first base (292 games, 237 starts), designated hitter (15 games, eight starts) and third base (nine games, two starts). He is a career .276/.359/.512 (78-for-283) hitter with runners in scoring position.
Faria, 26, has made seven appearances, all in relief, over four stints with the Rays this season. He went 6-2 with a 4.07 ERA (59.2-IP, 27-ER) in 23 appearances (seven starts) with Triple-A Durham, including a 2.02 ERA (35.2-IP, 8-ER) in 16 relief appearances. He was selected by the Rays in the 10th round of the 2011 June Draft out of Gahr High School in California. Over parts of three seasons in the majors, he is 9-8 with a 4.18 ERA (161.2-IP, 75-ER) in 40 appearances (26 starts).