Rays Head Into Break Splitting Series With Yankees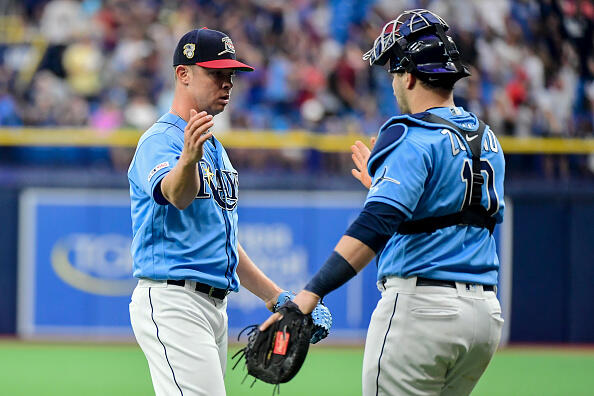 (Photo by Julio Aguilar/Getty Images)
ST. PETERSBURG (WDAE) -- Tampa Bay Rays pitching made two first inning runs stand up against the New York Yankees, as Charlie Morton scattered five hits while pitching into the sixth, leading the Rays to a 2-1 win over the Yankees Sunday and salvaging a split of the four-gamse series against the leade4rs in the American League East.
Each of Tampa Bay's first four hitters reached base against Yankees starter James Paxton, with Travis d'Arnaud starting the home half of the first with a double down the right field line, scoring on a hustle double by Tommy Pham. Yandy Diaz moved Pham to third with a base hit, and Avisail Garcia's fielder's choice ground ball erased Diaz at second but let Pham cross for a 2-0 lead.
Morton (10-2) made one mistake in his nearly six full innings of work Sunday, and it was leaving a fastball up and out over the zone in the second inning to Brett Gardner, who hit it into the seats in right for his 15th home run of the year and his third in as many days, cutting the lead back to 2-1.
New York's best chance to tie the game came an inning later when Breyvic Valera singled to lead off the third and moved to third base on a base hit by Austin Romine. But Morton then struck out both Aaron Hicks and Aaron Judge, then got Didi Gregorius to fly to center field and escaped unscathed.
Tampa Bay got runenrs to third base in the fifth and sixth innings off Paxton (5-5), then in the seventh against Tommy Kahnle and the eighth against Chad Green, but could not get an insurance run across. Luckily for the Rays, Morton was followed by 3 1/3 innings of perfect relief from Adam Kolarek, Andrew Kittredge, Colin Poche, and Emilio pagan, who struck out both Gary Sanchez and Gardner as part of a perfect ninth to record his fifth save.
Tampa Bay heads into the All-Star break with a record of 52-39, and pull to withing 6 1/2 games of the American League East lead.