OFFICIAL RELEASE: Kevin Cash Agrees To Multi-Year Extension With Rays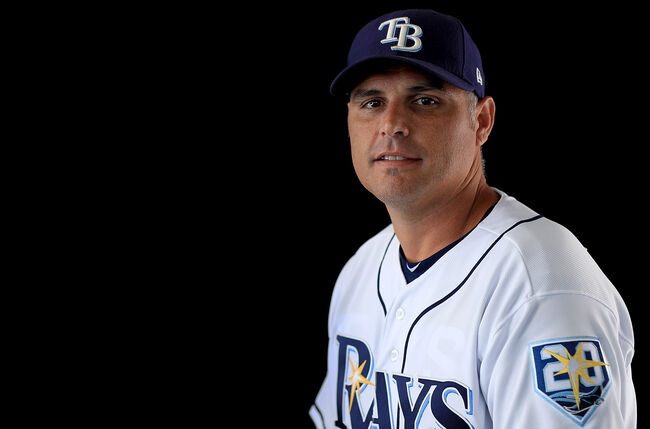 (via Tampa Bay Rays Communications) - The Tampa Bay Rays have extended the contract of Manager Kevin Cash through the 2024 season, with a club option for 2025.
"We couldn't be happier with the impact that Kevin has made on our organization, an impact that extends well beyond our major league club," said Senior Vice President, Baseball Operations/General Manager Erik Neander. "We're thankful for this stability and the many advantages that it provides, especially the opportunity to continue learning and improving together."
"Kevin's abilities, leadership and character have exceeded our lofty expectations," said Principal Owner Stuart Sternberg. "I look forward to having him and his family a part of our organization for the years ahead."
Named the fifth manager in Rays history on Dec. 5, 2014, Cash is already the second-longest tenured. Only five current major league managers have been managing their clubs longer than Cash, who enters his fifth season: San Francisco's Bruce Bochy (entering 13th season), Kansas City's Ned Yost (10th season, ninth full), Pittsburgh's Clint Hurdle (ninth), Oakland's Bob Melvin (ninth season, eighth full) and Cleveland's Terry Francona (seventh). Like Cash, Houston's A.J. Hinch and Chicago's Joe Maddon were both hired following the 2014 season. Including vacancies, 13 of the 30 major league clubs have changed managers in the past calendar year.
Under Cash's direction, the 2018 Rays went 90-72—the most wins in baseball by any team missing the postseason, and their best record since 2013. It was the second consecutive season they made double-digit improvement in wins. The club went 41-25 after the All-Star break, third-best mark in the American League, and 19-9 in September, second in the AL. They went 30-28 against the five AL postseason clubs, including 21-11 from June 22 through season's end.
They achieved all this despite a wide range of challenges. The Rays set single-season club records by using 54 players, 31 pitchers, 17 starting pitchers (most in baseball) and 23 rookies. According to Stats LLC, the 2018 Rays were the first team in major league history to use at least 23 rookies and finish at least 18 games over .500. The Rays began the season with a three-man starting rotation, employing frequent bullpen days, and on May 19 introduced "the opener" concept. From that point forward, the pitching staff ranked third in the majors with a 3.50 ERA. The Rays bullpen shattered the major league record by throwing 824.1 innings. Only three players remained on the active roster for the full duration of the season: first baseman C.J. Cron, right-handed pitcher Sergio Romo and catcher Jesús Sucre.
Cash has been selected to the American League coaching staff for each of the past two All-Star Games, by Hinch in 2018 and Francona in 2017.
A former catcher who played parts of eight seasons in the majors, including 2005 with the Rays, Cash is one of four current managers who played for Tampa Bay along with Nationals manager Dave Martinez (1998-2000), Mets skipper Mickey Callaway (1999, 2001) and Phillies manager Gabe Kapler (2009-10).
Cash, who turns 41 on Dec. 6, remains the youngest active manager in the majors. He is the sixth Tampa-born manager in major league history, and second to manage the Rays. That list includes Hall of Famers Al Lopez and Tony La Russa, Lou Piniella (for whom Cash played in 2005), Dave Miley and John Hart. He and his wife, Emily, have three children.
Photo Courtesy Of Getty Images